Barkley shatters previous best E.T. becoming the first Canadian to run in the 6's on a Street Tire!
The TS Signs Printing & Promo backed rider Ethan Barkley set his sights on racing against the best in the world this season. To do so he needed to venture back to the USA one more time this season to race with the Xtreme Drag Racing Association (XDA) at the inaugural Bike Bash at Virginia Motorsports Park (VMP) August 23-25th. XDA events always draw the top Pro Street racers from all over the globe as the track prep at an XDA event is second to none. This was a long haul for the Calgary, Alberta based racer who logged over 4400 km's each way!
After 3.5 days and 4400+ kms, Ethan arrives at Virginia Motorsports Park!
Friday tech inspection featured far more scrutiny than back in Canada or other US sanctioning bodies. The riders and bikes are meticulously weighed and measured, in Ethan's case he needed to be over 150 lbs in only shorts and a t-shirt without shoes or anything extra on his body. In order to allow up to 73" of wheelbase he and the bike including all gear must exceed 580 lbs. Over the last several months he has worked hard on his physical training and monitoring the bike's components to be as close as possible to the minimums in order to gain the most advantage. All that hard work and attention to detail paid off as Ethan weighed in at 154 lbs and the combined weight including his Alpinestars gear and HJC Carbon fiber helmet tipped the scales at a near perfect 590 lbs. To compete at this level racing the best of the best, nothing can be left to chance.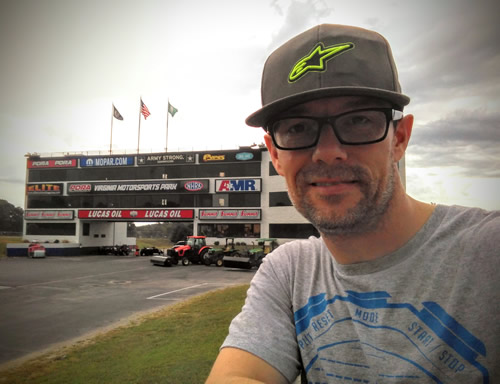 Barkley checks out the facilities at VMP!
Ethan entered the Friday test session in order to get a feel for the surface at VMP and work on his tune-ups. The session went well with a total of three runs, the best being a respectable 7.18/195 on a low boost tune. Friday night round 1 qualifying was at 7pm, the temperature had cooled off dramatically compared the test passes during the day. Ethan had a good idea of where he needed to be with his tuning and was eager to make a good pass. Unfortunately that's not how it went, Ethan wasn't in the correct body position when he bike left the start line harder than it's ever left before, Ethan was caught off guard found himself being in the uncomfortable situation of being pulled backward off the bike and was forced to chop the throttle at the top of first gear which hurt the times considerably posting a miserable 7.60 @ 185 mph. This was not how Ethan wanted to start his weekend and set his sights on doing better in the three rounds of qualifying on Saturday.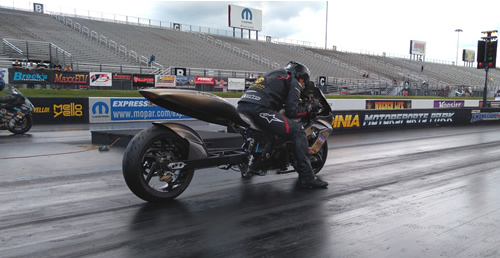 Barkley poised to set records on the immaculate VMP surface!
Saturday morning's weather was cool and wet forcing XDA officials to cancel the 1pm round of qualifying for Pro Street. This meant Ethan only had two chances to make the very competitive 16 bike field, one at 4 pm and the last at 7pm. In all 19 riders were entered in the Orient Express Pro Street Class and if you didn't make the top 16, you were going home early. Ethan took advantage of this extra time and spent hours reviewing the data from the earlier runs as well as watching video in order to improve his chassis and riding position. In the 4pm session Ethan was more determined than ever and had a much better body position but the bike was slightly lazy leaving the line. The scoreboards flashed 7.04 @ 206 mph, a new personal best in both elapsed time and speed! For round three Ethan made a slight change in his tune-up trying to resolve the soft launch. Unfortunately the launch still wasn't corrected but Eleanor pulled harder than ever and posted a new career best of 7.016 @ 200.62 mph! It was a near perfect run with Ethan knocking on the door to the elusive 6 second club! This run qualified him 13th position, which is truly a feat in itself considering the caliber of racers in attendeance.
Pro Street XDA start line is a busy place!
In round 1 of Sunday's eliminations Ethan was paired up with Ryan Schnitz who qualified 4th with a career best 6.61 @ 215 mph. Ethan knew he was the underdog but he was confident he was on the right track with his tuning and was eager to improve on his previous elapsed times. As the pair left the start line they were close on reaction time, but Ethan continued to have less than average acceleration in 1st gear and Ryan pulled ahead about 3 bike lengths. As Ethan shifted to second he was now keeping pace with Ryan. Ethan crossed the line in second to but he knew it was a good pass since he was able to keep Ryan in his sights. The time slip showed that all of Ethan's hard work and perseverance paid off ... 6.964 @ 205.26 mph! Ethan just made history as the first Canadian to run a 6 second elapsed time in Pro Street! He was now a full-fledged member of the exclusive "6 second club" and was ecstatic with the result: "This number 6 has been a long time coming, I always knew myself and the bike were capable of it but never had the traction up to now, the pass felt super smooth and now I'm on the right track to keep going quicker".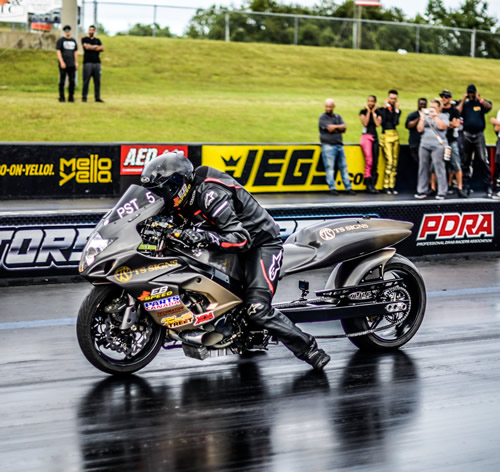 Barkley tucks in for a 6.84 second ride at nearly 208 mph!
Never one to be satisfied, Ethan was charged up and wanted more passes on the perfect VMP surface. "I didn't drive all this way to watch" he said as he was doing his between round maintenance. After speaking to XDA director Jason Miller, Ethan would be allowed to run test passes after the pro's finished their runs. This was an opportunity of a lifetime and Ethan took full advantage. His first test pass was another record setting run, 6.926 @ 200.00 mph! The bike was on rails, with a super clean start with improved acceleration in first gear. For his last test pass Ethan added even more power earlier in first gear while maintaining the same overall peak power he's run all season. The bike left the line with unbelievable speed and acceleration, posting a career best 1.15 second 60 foot time and continued to accelerate harder than ever before. Ethan shifted into 6th gear just before the finish line and posted a jaw dropping 6.847 @ 206.99 mph! (click here to watch) This is not only his third 6 second pass in a row, but more importantly he is now in the league of the world's top riders! "It has been an amazing few days down here and I'm pumped to be running so quick while knowing there is much more left in the bike" Ethan said after the record setting run.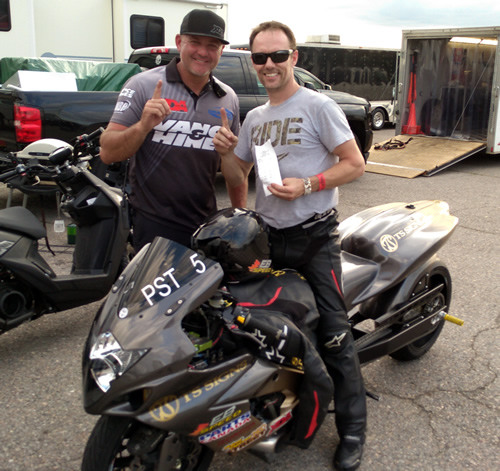 Barkley with XDA Director Jason Miller after the record setting pass!
It truly was an epic weekend of racing for Ethan. Not only did he qualify against the quickest riders in the world, he proved that the 15 years of hard work and dedication to his GSX-R1000 program paid off in spades! Running a 6 second pass is an amazing feat that only a handful of riders get to achieve. The icing on the cake is that he shaved off over a tenth of a second on only his third ever 6 second pass, just imagine thr outcome with more track time. His 6.84 second run places him firmly into the 6 second club and he knows this is just the tip of the iceberg!
The time slip that tells the story of years of hard work!
Ethan's next event will be back in Canada with the CMDRA in Medicine Hat, Alberta September 7-8th. Stay tuned to all of Ethan's social media for updates at the event.
PROUDLY SPONSORED BY: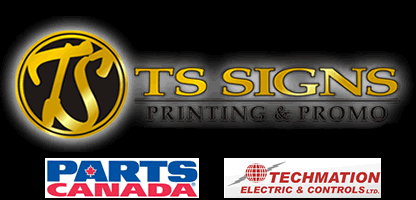 Follow Ethan's racing pursuits on:
INSTAGRAM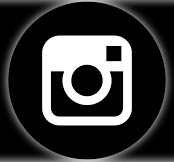 FACEBOOK