Barkley sets new records and finishes runner up at Indy!
The TS Signs Printing & Promo backed rider Ethan Barkley decided it was time to make his mark in the USA. "It's been nearly 5 years since I last raced in the States and I'm looking forward to what I can do on a good surface such as this", said the 18 Time Canadian Champion upon arrive to Lucas Oil Raceway, Indianapolis August 1st. During his absence Ethan has struggled with tire spin while racing in Canada while he watched his peers down south continually improve their times on premium surfaces.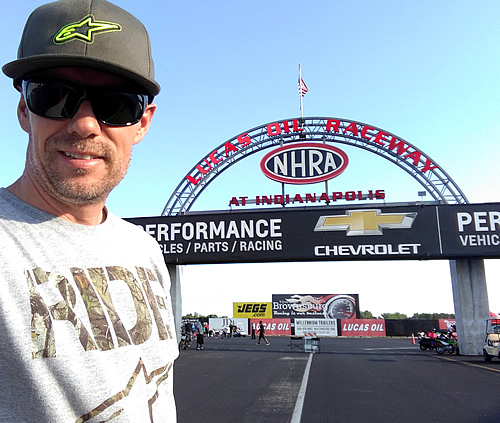 Indy!
Ethan made the 3000 km one way trip over the course of two and a half days arriving in plenty of time to participate in Friday test sessions. He made subtle changes to his turbocharged GSX-R1000 "Eleanor" in order to take full advantage of the newfound grip. Immediately Ethan was making his mark, running multiple 7.3's at over 195 mph.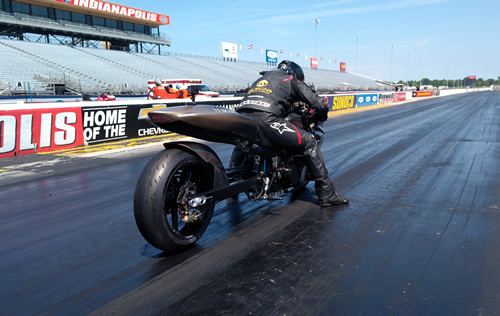 Barkley taking advantage of the grip in Indy!
Friday night round 1 qualifying was set and the temperature had cooled off nicely and the track was on point. Ethan had a solid tune-up in "Eleanor" and was looking to make a clean pass. Unfortunately there was an oil down on the track just ahead of the Pro Street class and the teams were forced to wait for nearly 2 hours. Ethan lined up and let the clutch go only to be low on power, it was a clean run but the time slip showed an issue, 7.58 @ 178! It seems there was an air leak in the boost control system that manifested itself during the long wait prior to the run. Unfortunate luck but an easy fix for rounds 2 & 3 on Saturday!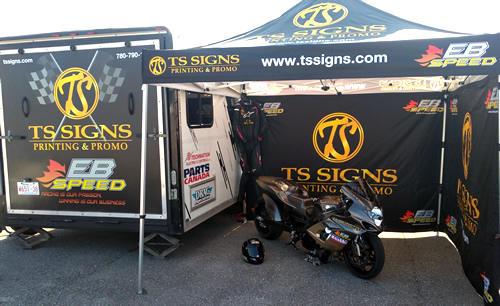 TS Signs Printing & Promo Racing Program in full force!
Saturday's weather was very hot with the track being a bit more challenging than on Friday evening. Ethan left this tune the same as round 1 in hopes of getting full boost down track, but the tire spun at the line. For round 3 Ethan made a slight change but the bike drifted toward the centerline and out of the groove, spinning the tire hard mid-track, he posted a 7.59/198 which didn't improve on his time from Friday. Ethan would qualify in third place out of the nine bikes in attendance. For Saturday evening Ethan entered the grudge event in order to get some more track time and sort out his chassis to solve the spinning when the track wasn't optimal. It was a wise choice and the slight changes he made proved to make a huge difference. On his first pass he posted a new career best of 7.12@198. Not one to settle, Ethan took one more shot at the track in the cool evening air and posted another best of 7.05@201! In two passes Ethan had now become the first Canadian on a street tire to go in the 7-teens, the 7-0's and first to break 200 MPH! It was an amazing improvement on his previous best in Canada of 7.22/198!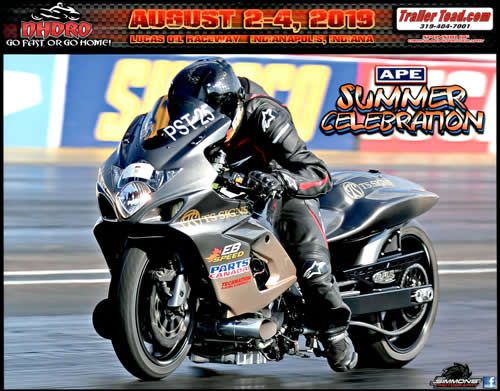 Head down and the throttle locked!
In round 1 of Sunday's eliminations Ethan was lined up against fellow EB Speed backed rider Chris Klassen. Chris had been struggling most of the weekend with grip or big wheelies but was capable of low 7 second times. Ethan decided to leave his tune from the grudge passes alone and ran a very clean 7.09@203 for a new speed record! Round 2 Ethan faced off against another turbocharged GSX-R1000. Ethan softened the tune as the heat of the day was affecting the track. Ethan dispatched his competitor with a soft 7.23 @ 198. Ethan's round three was an easy one, he had a bye run. Now was the time to try and shoot for a 6 second run, unfortunately the track didn't hold the tire at the starting line and the run was aborted. Ethan now found himself in his first ever finals on his first trip to the USA in over 5 years! He was lined up against #2 qualifier Dave Roisen who was doing very well himself running in the 7-teens all day! Ethan put in his 7.0 tune and had a better reaction time versus Dave but it was all for not as Ethan's tire instantly spun at the line and Dave cruised to victory.
It was an amazing 3 days of racing for the TS Signs Printing and Promo backed rider. Many new personal bests were had but more importantly Ethan is on the right track with his program and is looking forward his next event south of the border.
PROUDLY SPONSORED BY: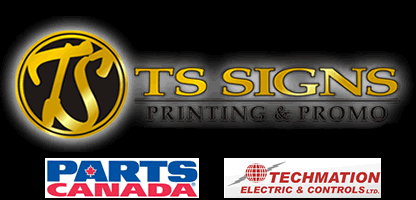 Follow Ethan's racing pursuits on:
INSTAGRAM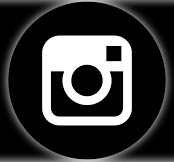 FACEBOOK