Maduro sets European E.T. Record at Santa Pod!
Most of the 2015 season was spent updating Rudolfo Maduro's 2006 GSX-R1000 in hopes of finding a proper chassis setup as well as more consistent power delivery. The two large front mounted air to air intercoolers were replaced with a simple up-pipe without any intercooling. It was determined that the flow / pressure drop was far too high with the old intercoolers, and new custom made individual runner plenum was created to maximize flow. No tonly did this new revised intake system result in improved power, but access to the engine was also greatly increased for raceay maintenance. With all this hard work now behind them the team arrived at Santa Pod Raceway for the National Finals Sept 18-20th. The event began with a test n tune day on the 18th, and after a set of burned clutch plates at the start of the day, things began to improve as time the day wore on. With the fresh clutch pack some changes were made to the MTC GenII clutch and the bike began to perform as expected, with the 60' times dipping into the 1.2's and the chassis working properly the times began to drop. Saturday's qualifying session started off well with a solid 7.67 unsing only low boost. As the day went on Rudolfo kept adjusting the boost settings and ended up with a new personal best of 7.57 / 183.63 and qualified him #7 in the 15 bike field. The evening was spent looking over the days data and coming up with a solid game plan for the following day.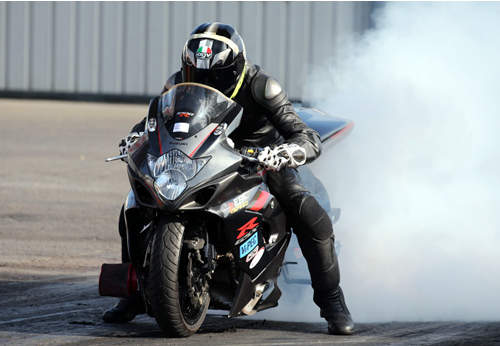 In Sunday's opening elimination Rudolfo squared off against #8 qualifier Steven Mead. Rudolfo did not move on but his did set a new 1000cc Super Street E.T. Record 7.53 seconds. It was a great way to cap off the season and was proof that all the long hours in the shop were worth it. After the record setting run, Rudolfo thanked the people that helped him with his achievement; "None of this would be possible without the help of my crew chief / fabricator Eric Boender. Kevin at MTC engineering for his time and his patience with the clutch. Justin Doucet of TWW and Chuck Bowyer of RC's Performance for their great parts and assistance regarding my project. Lastly my mentor Ethan Barkley of EB Speed for giving me the timely advice I needed to take my project to the next level!