EB Speed rider Rudolfo Maduro, sets European 1000cc Record!
Rudolfo Maduro of Holland who owns Europe's first 7 second GSX-R1000, came into England's Santa Pod Raceway Extreme Bike Weekend looking to put up some great numbers to close out his 2014 season on a high.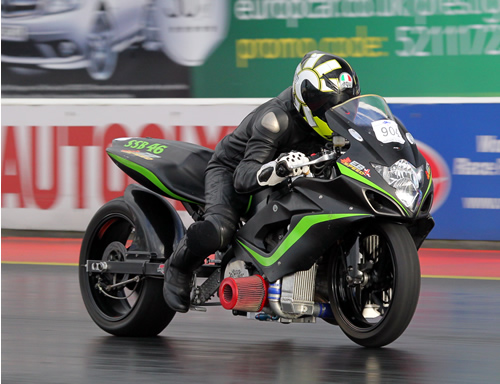 The EB Speed backed turbocharged GSX-R1000 of Maduro had struggled to put up good E.T.'s due to some nagging chassis issues that resulted in excessive wheel spin. For the Extreme Bike event he made a shock change and the numbers started to come down immediately. Even with less than optimal gearing Maduro was able to pull of an outstanding 1.26 60' time. After a few more changes to the ECU, he made a clean pass and posted a new personal best ¼ Mile E.T. of 7.83 seconds. With that run, Maduro now has Europe's quickest GSX-R1000! With the newfound confidence and reliability in his machine, he went on to take the win in the Top Bike Class.
After the event, Maduro stated: "I would like to personally my crew chief Eric Boender and Barbara. Ethan Barkley from EB Speed for his continuous support from day one of this project. Also a massive thank you to Wouter Dijk from Vreedijk Motor Management Engineering for his outstanding support with tuning of the ECU. Lastly I would like to thank my friends Charly Anasagasti and Thurtny Martina for their support!"