Promising results from Ashcroft
The 2013 CMDRA season kicked off at Eagle Motorplex near Ashcroft, B.C. May 25-26th. Thirteen Time Champion Ethan Barkley came into the event with nothing more than a bike that idled. The last four months had been spent designing and building one of the most state of the art Pro Street turbo systems on the market. Taking on such a task was a massive undertaking and it came down to the final hours before the Eleanor was up and running but it was far from race ready.
The Saturday morning test session started off a little rough as the bike wouldn't even accelerate without stalling. The next several runs in qualifying were less than spectacular but each pass was better than the next. Ethan spent every minute with his head buried the laptop tuning the newly installed MoTec M400 ECU. This type of system requires more than just a simple downloading of a file, the entire ignition and fuel maps needed to be created from scratch and then uploaded to the bike. By the time the qualifying session had ended, the Ethan was making clean runs under power with a best elapsed time (E.T.) of 9.34 seconds at 167 mph.
Sunday morning's test session allowed Barkley another chance to tune the bike for the upcoming elimination round. It would prove to be worth its weight in gold as he made a ton of progress posting a 8.35 @ 175+ mph. That pass put him right in the range of number one qualifier Ken Froese who was running consistent 8.20's. The two would meet during round one eliminations, but that was where Ethan's luck would run out. After a strong start he edged ahead of Ken slightly until the bike faltered. A data entry error before the run caused far too rich of a mixture and the bike ran poorly to say the least. Ken would go on to take the win over Ethan and went on to win the event.
Ethan's weekend wasn't over yet, he entered the CMDRA Gas Shootout where the two quickest qualifiers would go head to head for bragging rights. He wasted no time getting back on the laptop in the pursuit of a good tune up in the new system. The hard work was starting to pay off as Ethan posted an 8.08 @ 177 mph, good enough for top spot. In the finals Ethan kept tweaking the ECU and put up an 8.18 @ 179.89 mph and took the win.
Starting with bike that hardly idled and ending up with the low E.T. and top speed of the Pro Street competitors was more than Ethan had hoped for. It was obvious that the new system was working and showed amazing potential. With 7 weeks until the next event, Barkley will undoubtedly be working the bugs out of the new system.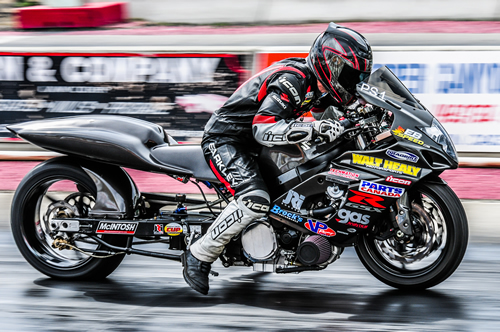 Photo by: seven62
Follow Ethan on Twitter @ethanbarkley

And on Facebook Ethan Barkley