Challenging weekend for Barkley
The CMDRA series landed at Eagle Motorplex July 20th and 21st for the High Desert Nitro Nationals. Racing conditions were less than optimal as the temperature pushed into the low 40's. Even though the staff at the Eagle Motorplex did their best, the extreme heat and blasting sun made the racing surface greasy. Ethan Barkley came into this event with high hopes since he had posted a 7.7 pass only a couple of weeks ago in Edmonton. Saturday qualifying started out poorly as the best he could a tire spinning 8.7 at a mere 175 mph. It was obvious that it would be a race against the track against much as it was a race against the competitor in the other lane. Tuning would prove to be critical and challenging as the weekend wore on. By the end of qualifying on Saturday, Ethan was in second place with a 8.31 @ 173.
It was obvious if Barkley wanted to win, he needed to come up with a plan. Shortening the wheelbase of the bike would help distribute more weight over the back tire and a tire change was also in order for Sunday's elimination rounds. On Sunday morning he had a chance to see if the multiple changes were working. On his second test pass things were looking up as 8.04 @ 179 mph flashed on the scoreboards. It was obvious things were on the right track, but he was still over a full tenth of a second behind # 1 qualifier Rob Aston. IN the semi-finals Ethan was lined up against the turbocharged Kawasaki ZX14 of Ken Morrison. Barkley took an early lead as the two left the start line and stretched out a lead throughout the quarter mile and took the win with an 8.28 @ 175. It was a good run, but still off the pace of what would be needed to take the win. Ethan reached into his bag of tricks and put in a bit more powerful tune up in the bike for the final run. "It will either spin or win" Ethan said as he worked tirelessly on his laptop tuning the bikes computers. After the burnouts Ethan lined up against Rob. As the two left the line, Ethan pulled ahead quickly and had a great run going until the rear tire lost grip and went up in smoke. Rob would go on to take the win.
Barkley put up a good fight but the new lighter chassis just didn't work on the slippery track. He's now second place in championship standings and still waiting for his first win of the 2013 season. The CMDRA's next stop is at the Badland's Nationals in Medicine Hat August 3rd – 4th.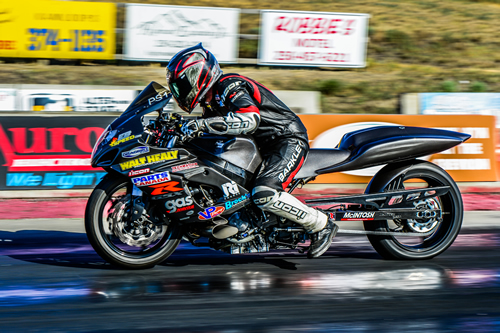 Photo by: seven62
Follow Ethan on Twitter @ethanbarkley

And on Facebook Ethan Barkley